November 2021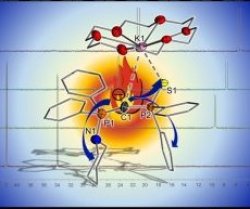 The new Chemistry Open is out, and the cover is hot.
It shows the structure of a novel metallated ylide - the team were able to isolate this reactive and useful compound through smart molecular design!
DOI: 10.1002/open.202100187
July 2021 - Henning defends his PhD thesis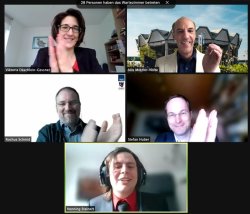 Birth of the 10th Dr. from the Gessner group. Congratulations to Henning Steinert for successfully defending his PhD this. This was an excellent performance.
July 2021 - Heidar defends his PhD thesis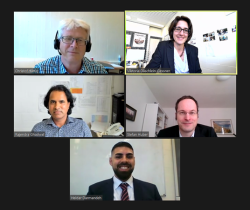 Congratulations Dr. Darmandeh to a splendid performance. Good luck for your future career .
April 2021 - Tobias defends his PhD Thesis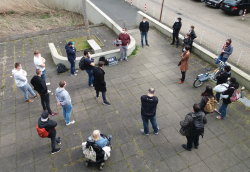 Tobias Stalder defends succesfully his PhD thesis "Ylid-substituierte, niedervalente Hauptgruppenelementverbindungen"
Congratulations!
March 2021 - Inside Cover Picture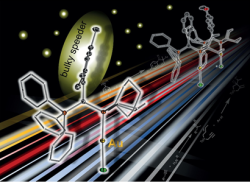 Jens' new publication
'Towards the Rational Design of Ylide-Substituted Phosphines for Gold(I)-Catalysis: From Inactive to ppm-level Catalysis'
is highlighted in Chemical Science (Inside Cover picture).
DOI: 10.1039/D1SC00105A
February 2021 - New Publication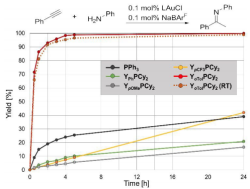 Jens' new publication
'Towards the Rational Design of Ylide-Substituted Phosphines for Gold(I)-Catalysis: From Inactive to ppm-level Catalysis'
is accepted in Chemical Science.
DOI: 10.1039/D1SC00105A
September 2020 - New Publication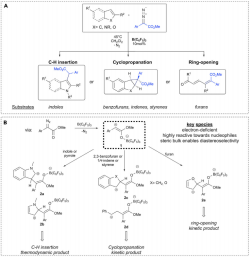 Heidar's Article "Selective B(C6F5)3-Catalyzed Reactions of α-Diazoesters with Heterocycles and Alkenes"
is published in Chem. 2020, 6, 9, 2364. doi: 10.1016/j.chempr.2020.08.006
August 2020 - New Publication

Alex's new article "Cationic Phosphorus Compounds Based on a Bis(1-piperidinyl)-Substituted Carbodiphosphorane: Syntheses, Structures, and C sp3–H Activation"
is published in Organometallics. https://doi.org/10.1021/acs.organomet.0c00412
July 2020 - New Publication
Thorsten's article "Efficient Pd‐Catalyzed Direct Coupling of Aryl Chlorides with Alkyllithium Reagents"
was published in Angewandte Chemie Intl. Ed. https://doi.org/10.1002/anie.202008866
July 2020 - New Publication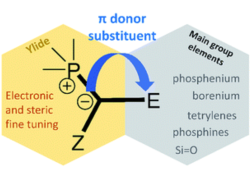 Abir's article "Phosphorus-Ylides: Powerful Substituents for the Stabilization of Reactive Main Group Compounds"
is published in Chemical Science. doi: 10.1039/D0SC03278F
June 2020 - New Publication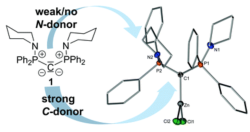 Alex article "A diamino-substituted carbodiphosphorane as strong C-donor and weak N-donor: isolation of monomeric trigonal-planar L·ZnCl2"
is published in Chemical Communications. doi: 10.1039/D0CC02496A
May 2020 - Great honor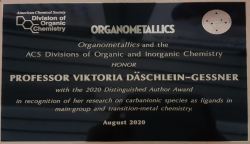 Viktoria has been chosen as the recipient of the Organometallics' 2020 Distinguished Author Award. This annual award is sponsored by the ACS Division of Organic Chemistry, the ACS Division of Inorganic Chemistry, and Organometallics and recognizes authors of exceptional articles published in Organometallics in the previous two calendar years that emphasize the importance of organometallic chemistry and have made a profound impact on the field. Congratulations to Viktoria and the whole team.
For more information, see: https://axial.acs.org/2020/03/12/organometallics-distinguished-author-award/